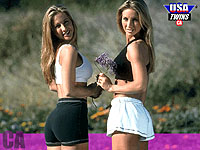 USA Twins California


SAY HELLO TO THE "USA TWINS" FROM CALIFORNIA!!!

Beautiful blonde hair identical twins from California have just magically appeared on your PC screen. No, you are not dreaming it is the first edition of USA Twins. Watch as Jill and Kim light up your PC with scenes of them at Laguna Beach playing in the surf, cruising the coast highway in their jeep, and dressed to the nines for a special night out. Don't even think about it -- these girls are way out of your league.

Your Screen Saver Includes:
A puzzle game using any of the screens with 3 levels of difficulty
A 1-4 player trivia game to test your California knowledge
News/Information screen
Sound and special effects
Scrolling message that you edit
On screen clock and date stamp
Password protection
Bonus USA Twins screen
And more ...
ORDER NOW FOR Only $9.95 !