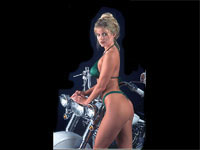 Motorcycle Dreams


Welcome to hog heaven!

The Motorcycle Dreams™ photographic screen saver features full-color photos. A triple threat – six beautiful girls, nine classic Harley Davidson motorcycles, and sexy Dream Dresser™ lingerie. Eighteen shots that are unlike anything else you've ever seen.

At the heart of all Late Night Software™ screen savers is the Interlude™ Screen Saver Calendar for Microsoft Windows. Interlude is simply the most advanced photographic screen saver available today. It has all the features found in the leading photographic screen savers and adds a unique twist - a built-in month-at-a-glance perpetual calendar. The calendar appears whenever the screen saver is active and makes it easy to check the date or day of the week of virtually any past, present or future date.




ORDER NOW FOR Only $12.95 !