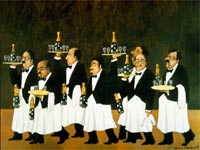 Guy Buffet


Art fans young and old will love our Guy Buffet screensaver. Monsieur Buffet was born in Paris in January 1943 in a neighborhood which was home to such artists as Chagall, Matise, Picasso and Modigliani. "At home there was always talk about these famous painters," he says, "and I used to listen to these conversations while doing my homework at the kitchen table. I remember drawing on napkins and the linen tablecloths while my brothers were busy with kitchen preparations."

Enjoy the spirit and passion of the French people and their love of fine cuisine through the Guy Buffet screen saver.




ORDER NOW FOR Only $9.95 !