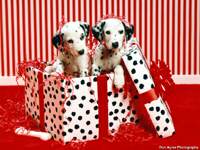 Don Ayres Dalmatians


You loved the movie…now you can enjoy these adorable puppies everyday as they romp across your screen. Watching TV, dressed in top hats, taking a bath in the tall sink, tucked into boxes, hanging out on a line, cozy in their beds. Each playful puppy image is packed with character and color. You've seen photographer Don Ayres' photographs on posters, calendars and greeting cards. Now, enjoy his delightful Dalmatians on your own computer screen. With 15 different images, this ScreenSaver is sure to please every Dalmatian and puppy lover!




ORDER NOW FOR Only $9.95 !