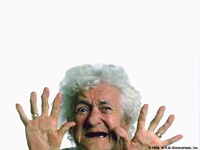 Mugglies - Granny Wants OUT!


Eek! Granny is trapped inside your computer, and she wants out now!

This is probably the most bizarre ScreenSaver ever devised. With multiple squished images, and sound bytes ranging from gentle pleas to outright demands for freedom, Granny definitely wants out. So, if you have a slightly twisted mind thatís looking for a few laughs, or if you want to slightly twist the minds of those around you, make Granny your captive today.




ORDER NOW FOR Only $9.95 !