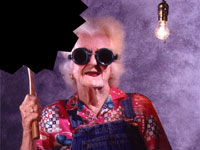 Mugglies - Granny Breaks OUT!


Granny Breaks Out - at last! Granny finally breaks free from the confines of your computer. Armed with a hammer and protective eyewear, our lovable octogenarian smashes out with chuckles, comments and shattering glass sound bites. She's free at last (or is she?).




ORDER NOW FOR Only $9.95 !