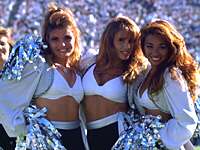 CHEERLEADERS - Raiderettes


Year end and year out ... NFL Player polls rate the Raiderettes the Hottest Cheerleaders of the NFL!!! They are the perennial "Cheerleaders of Choice," the Super Bowl Champions of the Sideline Show. They are Football's Fabulous Females and they can be your personal super Screen Saver. See the World Famous Raiderettes on the sidelines at Raiders games, in sensual calendar poses and in sexy bikinis on the beaches of Southern California. "Volume 1: Football's Fabulous Females" contains Raiderettes as you have never seen them before. Don't miss this chance to get into the game with the women of the NFL."




ORDER NOW FOR Only $9.95 !