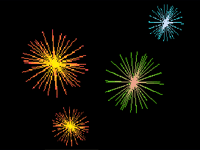 Virtual Reality - Glitter


The Virtual Reality - Glitter Screensaver is a collection of colorful, virtual reality starbursts which spin and rotate across your screen. These true 3-D images change speed and direction in accordance with the law of physics. Decorate your computer monitor with the sparkling Glitter screen saver & have fun!




ORDER NOW FOR Only $9.95 !