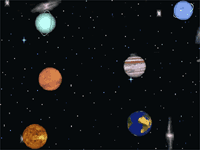 Virtual Reality - Planets in Chaos!


Using the most accurate scientific information available from NASA and Hubbel, we have created the nine planets of our solar system to look as real as possible using Virtual Reality. Each planet spins on its own true axis. Even though the rings of Neptune and Uranus are usually difficult to see with even the most powerful telescope, we have made them visible for your enjoyment. The planets have departed from their orbital order around the Sun and picked up new orbits. The universe is in chaos!

If you prefer a little more order to your universe, please check out Virtual Reality - Planets in Motion! Both of these virtual reality screensavers are a must-have for space enthusiasts and dreamers of all ages!




ORDER NOW FOR Only $15.95 !